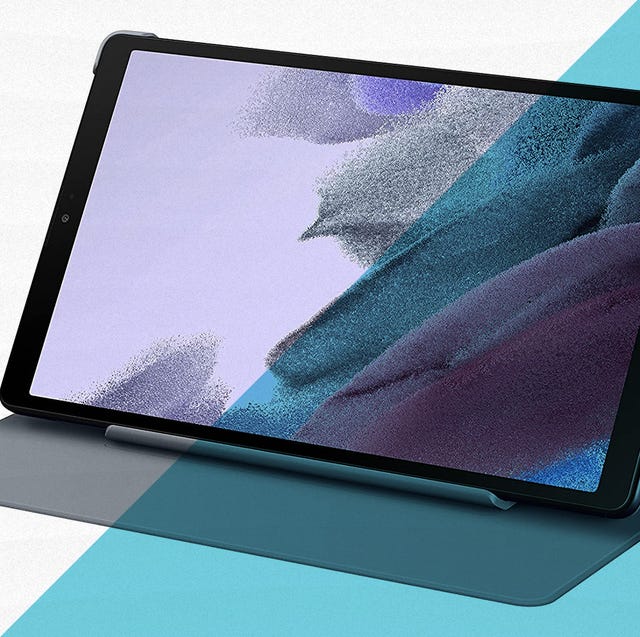 Staff, Courtesy of Samsung
Flashy and expensive tablets get a lot of attention, but cheap tablets are more than sufficient for most people. Manufacturers tend to cut corners on the lower-end models when it comes to screen technology and processor speed. But we'll let you in on a little secret: You probably don't need the fastest or the best tablet to do the things you want. Almost every tablet on the market these days is good enough for what we use them for the most often: web browsing, watching movies, reading ebooks, and playing simple games.
If you haven't researched tablets in a while, you'll be pleasantly surprised by what's available. Even lower-end tablets today offer features that would blow away higher-end models from just a few years ago. Of course, don't expect to be doing super-fast gaming on these models. The processors are too slow for graphics-intensive applications. Also, the screens on lower-end tablets tend to be a little dimmer and not as high-resolution as more expensive options.
Another area where you'll find cheap tablets are lacking is how they feel in your hand. Unlike the premium feel offered by more expensive models, such as Apple's $1,000 iPad Pro, inexpensive tablets use more plastic in their frames and tend to be thicker than the expensive ultra-slim options. That said, I often find myself reaching for my cheap Amazon Fire tablet over my pricey iPad Pro to toss into a backpack when I'm on the go and don't want to risk scratching or losing a significant investment.
The Expert: As anyone who has seen the inside of my apartment can attest, I own way too many tablets. Part of the problem is that it's my job as a technology writer to review all kinds of gadgets, including tablets and laptops. But the truth is, I just love all sorts of tablets and have been using them since the very first computers in this form factor arrived on the market in the 2000s. In my perpetual search for the best tablet, I've owned dozens of models, including all three Amazon Fire tablets I recommend below. In daily use, I turn to my cheap Amazon Fire 7 tablet, which is one of my favorite devices for reading books. But I also have a special place in my heart for Apple's top-of-the-line iPad Pro, which is excellent for watching movies and getting a lot of work done.
10 Best Cheap Tablets
What to Look for in a Cheap Tablet
Screen Size
The first thing to consider when choosing a cheap tablet is what you want to use it for. This will determine the screen size most suitable to your needs.
If you'll primarily be using your tablet for reading or composing emails, go for a tablet with a 7- or 8-inch screen, which fits better in your hand and most closely mimics the feeling of holding a paperback book. Smaller tablets also come in handy in situations where you might have only one hand free, such as when you're riding on a subway or bus.
But if binge-watching movies is your thing or you plan to use your tablet to look at large documents, go for something bigger. A 10-inch model, such as Amazon's Fire HD 10, is the perfect compromise of portability and size, with a screen large enough to fit sufficient pixels.
Processor
Almost every cheap tablet on the market these days is fast enough for you to surf the web, check your email, and play simple games. Otherwise, you may notice a slight sluggishness when you have multiple tabs open on your web browser.
However, don't expect a cheap tablet to be capable of multitasking with several programs open at once or when running higher-end games. If you plan to use your tablet as your main computer or get serious work done, like handling larger spreadsheets or editing photos, expect to shell out a few hundred bucks more for a high-end tablet. Keep your expectations reasonable, and any of the cheap tablets on our list will do for basic functions.
Memory
One significant feature of a cheap tablet that you'll want to consider before you make your decision is how much memory it has. Even the cheapest tablets come with 16 gigabytes of memory, which is sufficient enough for browsing the web and reading ebooks—but just barely enough to load some apps and watch a movie. If you want to download lots of games or other software, consider a tablet with at least 32 gigabytes of memory.
The cheapest tablets, such as Amazon's Fire 7, don't have a memory card slot that lets you expand the tablet's storage. Slightly more expensive tablets, like the Samsung Galaxy Tab A7, can hold a microSD card that supports up to 1 terabyte of storage, so you can store all the movies and music in your library and plenty of software.
How We Selected These Cheap Tablets
To be clear, you can find hundreds of cheap tablets online. And while many of them may be a great buy, little-known or even unrecognizable brands likely won't guarantee the kind of quality control and customer support as global giants like Amazon, Apple, and Samsung. Taking this into consideration, I included cheap tablets from only those better-known brands, which still offer amazing deals but without the risk.
Every tablet I recommend here is sufficient for browsing the web, emailing, reading a book, and playing simple games; some can do more. In addition to my own experience with a bunch of these models, I also considered options on both ends of the features spectrum, as well as online customer ratings. Finally, I looked at screen size, memory, and price when compiling my final list of recommendations. These are the 10 best cheap tablets your money can buy.
Best Budget Tablet
Amazon Fire 7
Key Specs
Screen Size: 7 in.
Memory: 16 GB
Weight: 10.1 oz.
Colors: Black, Plum, Sage, Twilight Blue
The Fire 7 is the cheapest tablet on our list, but it's a surprisingly enjoyable and capable machine. Amazon has optimized its Fire operating system to run on low-end tablets like this one, so basic functions like email and web browsing run smoothly. It's also a sleek and handsome tablet that's comfortable to hold for long periods. One big downside with the Fire 7, like all Amazon's tablets, is that you are locked into the company's app ecosystem. You won't have access to the Google Play store, but Amazon has plenty of apps for download.
No Google Play store
Limited memory
Best All-Around Tablet
Apple 10.2-inch iPad (2021)
Key Specs
Screen Size: 10.2 in.
Memory: 64 GB
Weight: 17.1 oz.
Colors: Space Gray, Silver
Apple's cheapest iPad isn't quite the rock-bottom price of some of the other cheap tablets on this list, but it's far and away the best tablet for most people. The extra dollars get you the incredible build quality common to Apple products and, most important, access to the iOS ecosystem of apps. The screen is bright and beautiful, and the processor is fast enough to fly through all but the most demanding of tasks.
Great screen
Fast processor
Best Tablet for Reading
Amazon Fire HD 8
Key Specs
Screen Size: 8 in.
Memory: 32 GB
Weight: 12.5 oz.
Colors: Black, Plum, Twilight Blue, White
For a little less than twice the price of the Fire 7, the Fire HD 8 offers a lot more tablet—with "HD" referring to a higher-definition and nicer-looking screen. The extra inch of screen size makes a big difference in readability compared to the 7, although it's not quite as comfortable to hold for long periods. However, the screen quality is much better than the 7-inch model in terms of both brightness and resolution, and the processor is faster, which makes launching apps much quicker. You also get double the amount of memory than you do with the lower-end Fire 7. This HD 8 comes with 32 GB of memory, which is really the bare minimum if you want to explore different apps and download a few movies. For $30 more, the HD 8 is also available with 64 GB of memory.
Good screen
Fast processor
Bulky compared to the Fire 7
Best Tablet for Watching Movies
Amazon Fire HD 10
Key Specs
Screen Size: 10.1 in.
Memory: 32 GB
Weight: 16.4 oz.
Colors: Black, Denim, Lavender, Olive
The Fire HD 10 is the biggest tablet in Amazon's line and a great choice if you are already heavily invested in the company's ecosystem. It's easy to access Amazon's music and video streaming services, and, of course, reading books and buying almost anything from the store is a breeze as well. The HD 10 offers a big, bright screen for a reasonable price. The processor is fast enough to do basic tasks, like watching movies, but it quickly gets bogged down when you try more demanding games.
Big screen
Easy to use Amazon services
Best for Android Fans
Samsung Tab A7 Lite
Key Specs
Screen Size: 8.7 in.
Memory: 32 GB
Weight: 12.9 oz.
Colors: Gray, White
I used to own the Tab A7 Lite and can say from experience that it's an all-around great budget tablet. The best thing about this model is that the 8.7-inch screen size strikes a perfect balance between being big enough to provide a better experience while remaining somewhat portable. The stock Android operating system means you can download apps directly from the Google Play store, something you can't do with Amazon's Fire tablets. One thing to keep in mind is that the processor in this model is a little slow.
Great screen
Perfect size
Best Tablet for Business Use
Lenovo Tab M10 Plus
Key Specs
Screen Size: 10.3 in.
Memory: 64 GB
Weight: 16.16 oz.
Colors: Iron Grey
The closest competitor to the M10 Plus is Amazon's Fire HD 10, but for 20 bucks more, the M10 is the better deal. It has a sharper screen and faster processor than the Fire. And unlike the Fire HD 10, the M10 gives you full access to the Google Play store, which means you can download a huge variety of apps. One nice touch is the M10's metal back, which gives it a premium feel that's unusual in this price range.
Best-Looking Tablet
Samsung Galaxy Tab A
Key Specs
Screen Size: 8 in.
Memory: 64 GB
Weight: 12.16 oz.
Colors: Black, Silver
The Tab A hits a lot of sweet spots with its excellent screen and reasonably speedy processor. Its sleek look makes it seem more premium than its price tag would otherwise suggest. The battery life is also notably better than other inexpensive tablets, clocking in at 13 hours with modest use compared to Amazon's Fire 7, which lasted about 7 hours on a charge in my tests. Another nice touch: dual speakers, which provide surprisingly good sound for their small size.
Great speakers
Decent battery life
Tablet With the Best Sound
Samsung Galaxy Tab A7
Key Specs
Screen Size: 10.4 in.
Memory: 32 GB
Weight: 16.8 oz.
Colors: Gold, Silver, Gray
If you want a big screen and don't want to spend a lot of money, consider the A7. The display is bright and crisp enough to enjoy watching long movies, and four speakers pump out a lot of sound. Despite its large screen, the A7 is slim and stylish looking enough to compete with Apple's best and has a metal body that feels great in your hands. In testing, I got about seven hours of battery on one charge, which is just okay but could be better.
Best Android Tablet for Multimedia
Samsung Galaxy Tab A8
Key Specs
Screen Size: 10.5 in.
Memory: 64 GB
Weight: 17.92 oz.
Colors: Dark Gray, Pink Gold, Silver
The Tab A8 is a nice step up from its lesser sibling the A7 (above). For a little more money, you get double the memory and a very slightly larger screen. The screen's quality is excellent and looks more vibrant than the A7. I also found the A8's processor to be faster than that of the A7, which makes a big difference when trying to run complex apps. The A8 also feels solid and has a sharp-looking case.
Best Tablet for Drawing
Samsung Galaxy Tab S6 Lite
Key Specs
Screen Size: 10.4 in.
Memory: 64GB
Weight: 16.32 oz.
Colors: Blue, Gray, Rose
The Tab S6 distinguishes itself in a crowded field by offering a stylus, which is handy for making sketches and taking quick notes. In tests, I found the stylus to be too small for long writing sessions, but it's a lot of fun for short annotations. The rest of the tablet boasts an excellent screen and a speedy processor. Battery life was shorter than I would have liked on this model; it lasted about 13 hours. The speakers pumped out plenty of sound for watching movies.
Our Expert, Sascha Brodsky, on Keyboards, Data Plans, and the Newest Surface Pro From Microsoft
Q: Does it make sense to buy a tablet keyboard?
A: It depends on what you'll use your tablet for. If you use it mainly for emailing and reading books, you really don't need one. But if you plan to use your tablet to work on large documents or to browse the web often, a keyboard can provide a laptop experience. There are two main types of tablet keyboards: those meant to work as covers for your tablet and those intended to reside primarily on your desk and look more like a standard keyboard. Look for one that offers a decent-sized keyboard but that doesn't turn your tablet into something cumbersome.
Q: Do I need a data plan, or is Wi-Fi sufficient enough?
A: Most low-end tablets do not have the ability to use wireless LTE data. But that doesn't mean the tablet you want isn't available in a version that does. You'll just have to pay a little extra. The Samsung Galaxy Tab A7, for example, is available with four LTE data plan options—Verizon, AT&T, T-Mobile, and US Cellular—for around $50. A data plan can be incredibly useful if you tend to use your tablet outside of WiFi range. In a pinch, if you do need to get data on the go but don't have a built-in data plan for your tablet, check with your cellular carrier to see if you have the option to set up a hot spot on your phone.
Q: Favorite tablet purchase?
A: I'm a longtime fan of the tablet form factor, so I got in at the beginning when Apple introduced its Newton Messagepad in 1992. The Newton, which had a dim black and white screen and ran on disposable batteries, was unlike any computer ever made back then. It was an exciting experience to try out using a stylus instead of a keyboard to input information. I absolutely loved the Newton even though it was never a commercial success, and trying it out for the first time was a great experience. But the tablet I have on my radar now is Microsoft's latest Surface Pro 8, which has a 13-inch touchscreen, up to 16 hours of battery life, a fast processor, and Microsoft's built-in Kickstand. It starts at $860 but can run into the thousands depending on how you configure it.
This content is created and maintained by a third party, and imported onto this page to help users provide their email addresses. You may be able to find more information about this and similar content at piano.io
https://www.popularmechanics.com/technology/g39266048/best-cheap-tablets/