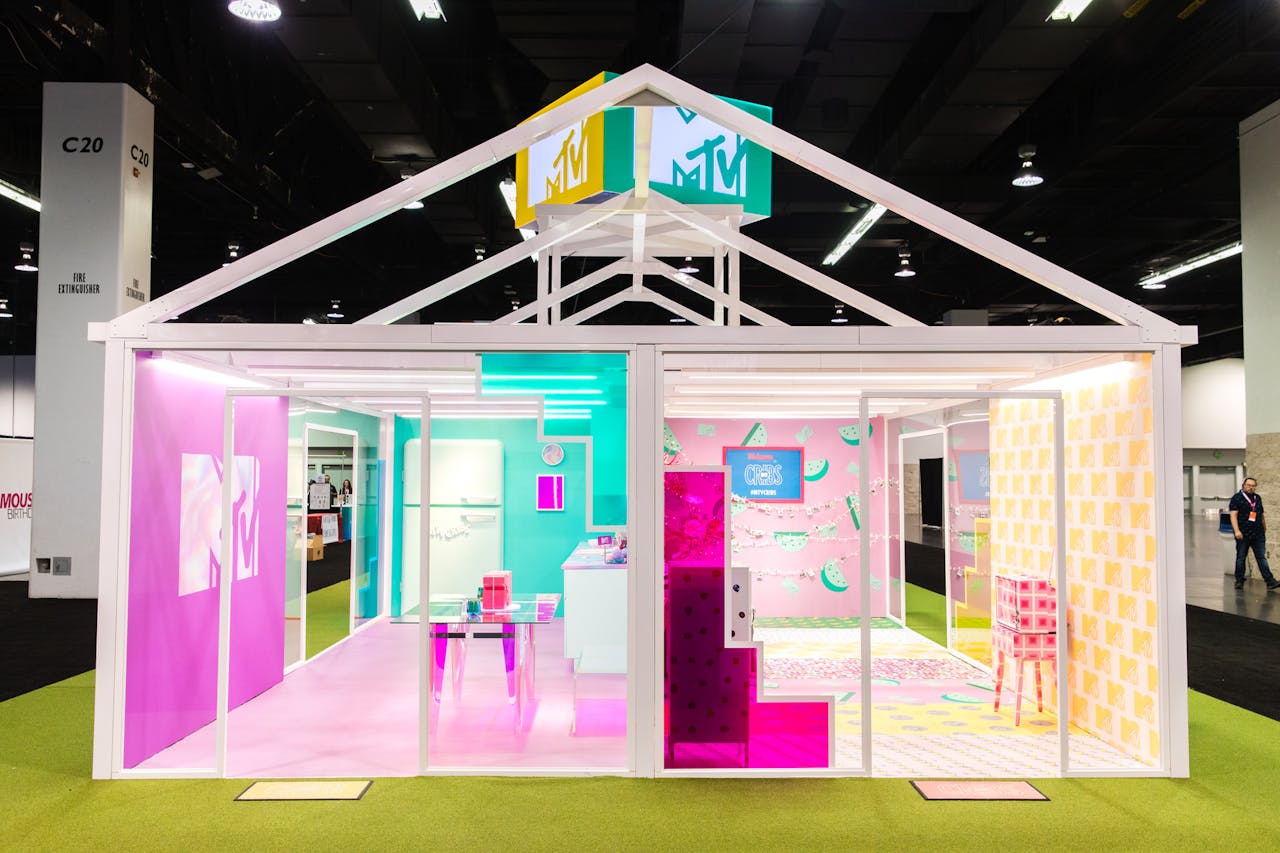 To celebrate the original MTV Cribs franchise but add a modern, D.I.Y. twist, MTV tapped creative agency MKG to design an eye-catching, interactive booth at VidCon in 2018. The space was designed to resemble a house, with a kitchen, a living room, and a second floor that offered a unique view of the convention center. Rock Steady contributed scenic design to the booth.Photo: Courtesy of MKG
Looking to stand out on a crowded trade show floor? We asked a variety of event and marketing professionals to share their best tips for creating an eye-catching trade show booth. Scroll down to read their advice—and keep scrolling to get inspired by some of our favorite booth designs from brands like Facebook, LG, Polaroid, and MTV.
1. Think about your target audience and the goals for your booth.
"Every successful trade show experience starts with knowing and thoroughly understanding your business and event mission and goals," notes Melissa Park, owner of New York-based production firm Melissa Park Events. "With those in hand, it's time to enter the mind of your target market or audience to work out how you can best convey your messaging and achieve your event goals in a creative way that is going to appeal, resonate, and cut through the trade show floor noise."
Park, for example, works with a lot of tech clients who exhibit at shows targeting developers.
"For this audience, a spacious booth where they don't feel like they're going to get pounced on is a must," she explains. "LED lighting, or an LED screen-based design, will always grab attention—however, you should not invest in a heavy screen design if you don't have the budget to create custom content. A standard booth loop on a large-scale LED is a complete waste of money."
Dave Poulos, a Maryland-based marketing consultant and the owner of Granite Partners LLC, agrees that "the [booths] that garner the most attention are those that invest heavily in knowing what their customers want and what they will respond to."
2. Get creative with the architecture of the booth. 
"Do something that's more unusual from a shaping perspective with interior spaces and exterior," says Valerie Bihet, owner of VIBE Agency in Miami, who suggests thinking beyond the traditional three or four walls. "When you see a concept store that really has interesting elements outside and inside, people want to be inside to see what's up. Unusual shapes create a more interesting experience from across the show floor."
3. Choose colors that will stand out.
In our social media-driven world, everyone wants to stand out and offer that Instagrammable moment. Vibrant colors and patterns can be a great way to stand out on a show floor—but the key is to be different than the other booths around you, cautions event and retail designer Beth Martin, the Charleston, S.C.-based owner of Beth R Martin Design.
"At most events, companies typically try to stand out by being the brightest and loudest with imagery—but this can often have the opposite effect," she explains.
One design idea to try? "Hand-drawn black and white or minimally colored graphics and signage. If you are the contrast in the room, you are more likely to catch the eye of onlookers, and hand drawings are a great way to ensure you won't blend in with the crowd," Martin says. "When everything is digital, it's a great time to look to the past with retro techniques to be creative and unique."
4. Focus on delivering an experience.
"There is a significant trend toward delivering experiences [rather than] 'selling' at trade shows," says Nancy Kent, CEO of creative marketing studio Mindshare Creative in Orange County, Calif. "When you provide an experience, you get attention, engagement, and, happily, a lasting impression. The key is to figure out what you have to 'give to get'—meaning what you have to trade the attendee for their time. This could include experiences within the booth and educational events. Ideally, there is a theme, and it aligns with a primary selling feature of the product."
5. Offer interactive elements.
"Interactive games like beer pong, foosball, and arcade games are always a hit," Park adds. "These tactics draw [attendees] in and immediately put them in their comfort zone, which makes conversing—akaselling—and funneling them onto a demo station or resource center so much easier."
Poulos also suggests making attendees work a bit. For example, "If you're a travel or tourism company and want a great booth to attract meeting planners, know their pain." Trying to educate them on activities available in your specific destination? "Show them a huge, interactive map of all the different attractions possible in your city, and show how close they are by bus, cab, or train to the convention hall or hotel. The key word is interactive—make them step on a location on the floor, or push a button to read the mileage, or scan a QR code to get each location's website downloaded," he suggests. 
From his experience, Poulos notes, attendees are drawn to booths that offer "a high level of interaction, noise, smoke (if allowed), movement, lights that blink or move, even smells—anything that enhances the engagement level and the user experience. … Those are the displays that draw attention and drive the most leads—and the quality of those leads depends on the brand authenticity and the messaging that go with the display design."
6. Make sure your signage and messaging are legible.
"Consistency in signage appearance is crucial to drawing attention to your brand," says Shelley Grieshop, creative writer at Ohio-based promotional products company Totally Promotional. "Use your authentic logo, company colors, and brand theme when creating banners and table covers. This will help avoid a busy, disheveled look, which can be distracting to visitors."
Grieshop also advises keeping any text brief and using fonts that are easy to read from distances over 10 feet. 
7. Be intentional with your swag.
"Giving out free stuff is a must, but you don't want to overdo it," advises Kelly Chan, marketing manager of AccountantOnline.ie in Dublin, Ireland. "If you give away swag that is really cool, everyone will come—and you don't want to attract everyone; you only want people that are likely to become clients or customers. On the other hand, if you hand out free pencils, you won't leave a memorable impression."
Think through items that your ideal customers will actually want to use. For example, "You could offer free USB drives to people who sign up for your newsletter," Chan notes. "You can get branded USB drives for a relatively low cost, but they have a fairly high perceived value."
Branded tote bags are another good, low-cost option. At a recent trade show, Trendy Tan, growth marketing manager at QuickHR in Singapore, gave out tote bags that were intentionally larger than most other booths were likely handing out.
"This meant that attendees could throw in all their other freebies and samples into our branded bag," Tan says. "We received many compliments for the bag, and even had people coming up to us during the tear-down of the event to get another one! Even if some of these attendees weren't our target audience, carrying the large tote bags around definitely helped with building brand awareness."
8. Study design trends from other countries.
"Look for a designer outside the country where you are to get inspiration," Bihet advises. "The French, for example, do beautiful work that is really different from what we are seeing in the U.S. By looking abroad, you can get ideas (or actual designers) that are not happening here, then you can have a local fabricator create it."
9. Make sure your booth is a comfortable—and informative—place to be. 
"Keep your floor plan open to make it easy to invite people in," Chan says. "No matter how big your business actually is, have at least three people at the booth. If that is not possible, make sure to have business cards for at least three different people. Your business will look more established this way."
And make sure people walking by can tell what your company does, without having to ask. "Make sure to have a banner or a one-liner across the back of your booth as well," Chan adds. "If people can't tell what all the fuss is about at a first glance, they usually won't bother."
https://www.bizbash.com/meetings-trade-shows/trade-shows/media-gallery/22262561/advice-and-inspiration-for-trade-show-booths