Hover is a domain name registrar headquartered in Ontario, Canada. It's a subsidiary of Tucows, a publicly-traded American-Canadian internet services provider. Tucows formed Hover in 2008 by merging three domain registration services it already owned; NetIdentity, It's Your Domain (IYD), and Domain Direct.
Hover is primarily a platform for domain name registration. But, it also offers additional services like email web boxes and email forwarding. 
We tested Hover extensively to give you a detailed, unbiased review. We scored the platform based on specific criteria, including features, pricing, customer support, ease of use, etc.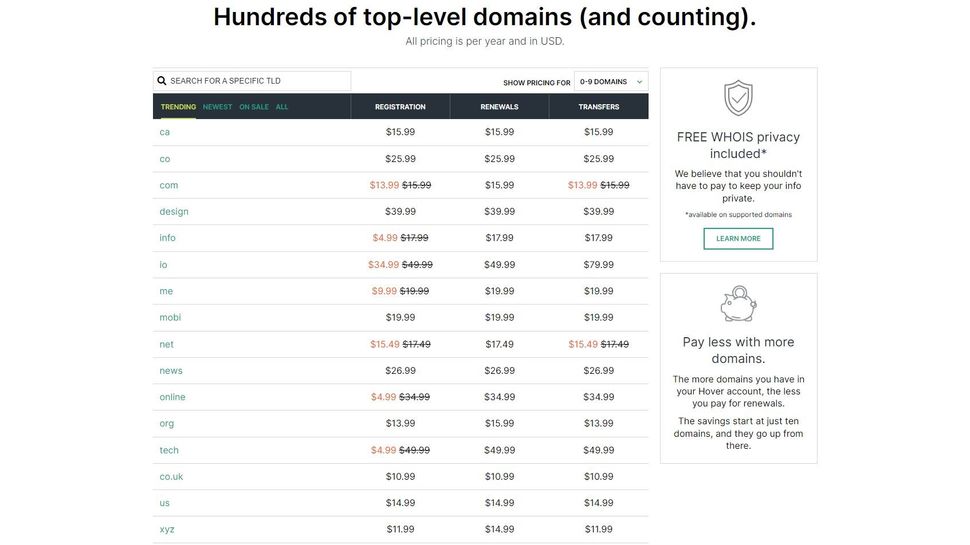 Plans and pricing
Hover charges varying prices for different domain name extensions. Its domain names cost anywhere between $5 and $50 annually—generic extensions like .COM and .NET cost $10 to $20 annually, and atypical ones like .IO cost $30 to $40 annually. Hover sometimes offers steep discounts for specific domain name extensions, dropping their first-year prices to under $5.
Hover charges $5 yearly for a custom email using your domain name. It also requires additional storage fees; $20 per year for 10GB or $29 annually for 1TB.
Features
Hover's main feature is domain name registration. You can search for any domain name you want and buy it on the platform if it's available. Hover supports over 300 domain name extensions, including generic ones like .COM and .NET and uncommon ones like .APP, .CLUB, and .IO. There are countless uses for domain names. It's useful for individuals and organizations. 
Hover also lets you transfer a domain name from another registrar onto its platform. This feature is helpful if you have domain names on other platforms that you want to move to one spot and manage easily. Hover does not charge any fees for transferring domains. It only charges one year of additional registration added to whenever your domain is set to expire. 
Domain name transfers to Hover typically take one to two weeks, depending on various factors, such as the specific domain extension. Every domain you want to transfer to Hover must be registered for at least 60 days elsewhere. This rule is standard across the domain name industry.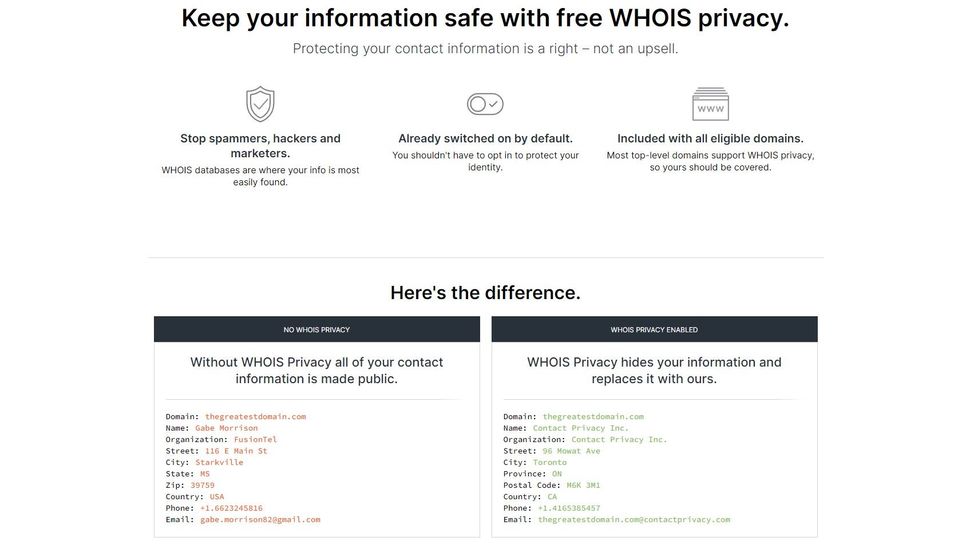 Hover automatically includes WHOIS privacy protection in every domain name purchase. It means that people can't look up your information in the WHOIS database. This feature helps prevent spammers from contacting you easily.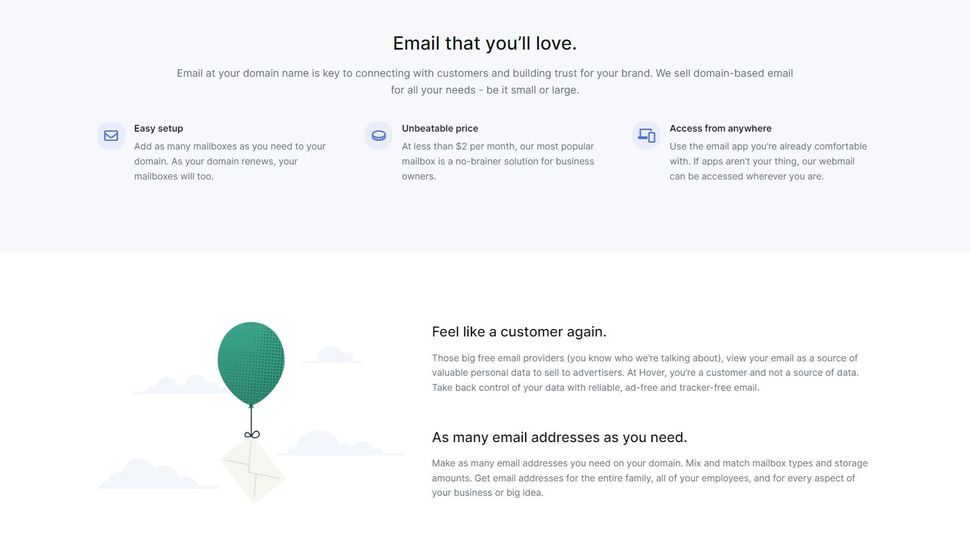 Email
Hover enables customers to create custom emails using their domain names. Custom emails look more professional than bland emails, mainly for organizations. You'd rather have "[email protected]" than "[email protected]." 
Hover's email client works like any other email client. It just has a different interface. You can send and receive emails as usual. The platform has anti-spam tools to help detect and filter out illegitimate emails. You can create custom rules to keep your inbox in check. It also supports automatic email forwarding.
Hover charges $5 yearly for every custom email, and you can create as many as you want. You have to pay for storage; $20 annually for 10GB and $29 yearly for 1TB.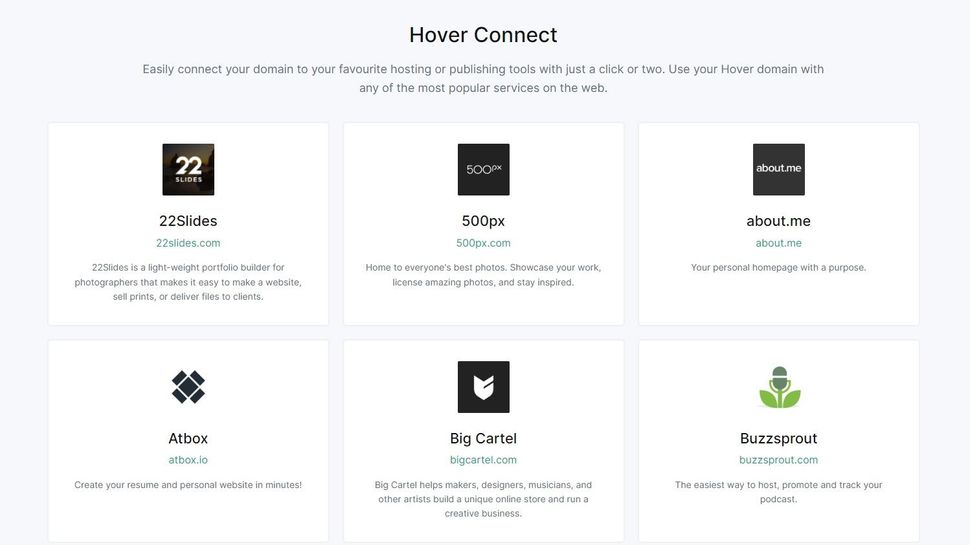 Hover Connect
Hover does not offer a web hosting or website builder service, which is a drawback compared to rival platforms. However, the company tries to make up for that with "Hover Connect," which connects your domain directly to third-party platforms. 
Hover Connect enables you to connect your Hover domain directly to third-party web hosting and publishing tools, e.g., Ecwid, Jimdo, and Weebly. 
Security
Hover has security measures and protocols to protect user accounts from compromise. An example is two-factor authentication (2FA), which requires two distinct modes of identification before logging into an account.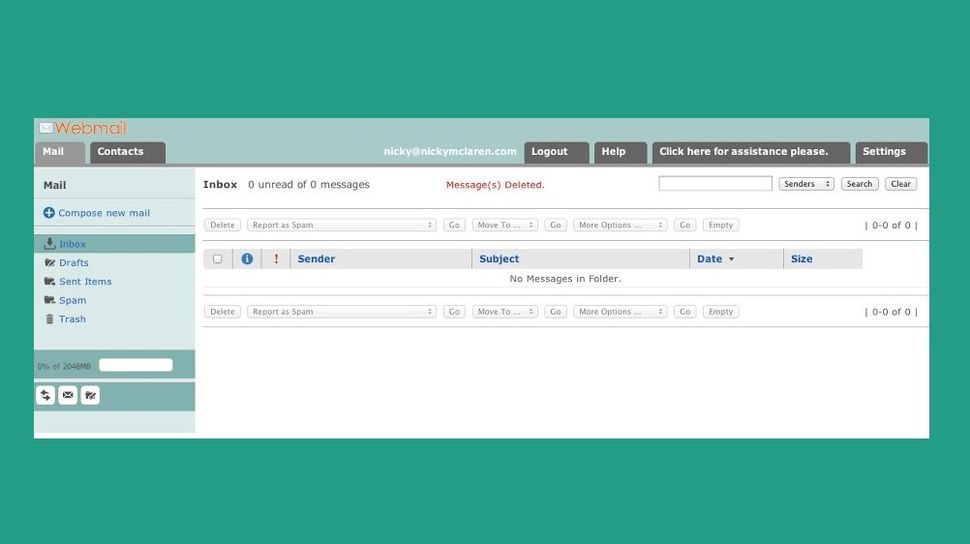 Interface and in use
Hover has a user-friendly interface. The platform is easy to understand and navigate for most users. Registering and managing a domain name with it is pretty easy. The webmail interface is also user-friendly. 
Customer support
Hover offers customer support through email and telephone, and it's excellent. You can dial the support line and instantly get in touch with an actual customer support representative to help you whenever you're facing a problem, unlike many platforms that give automated responses. If you inquire through email, expect a reply in less than 24 hours.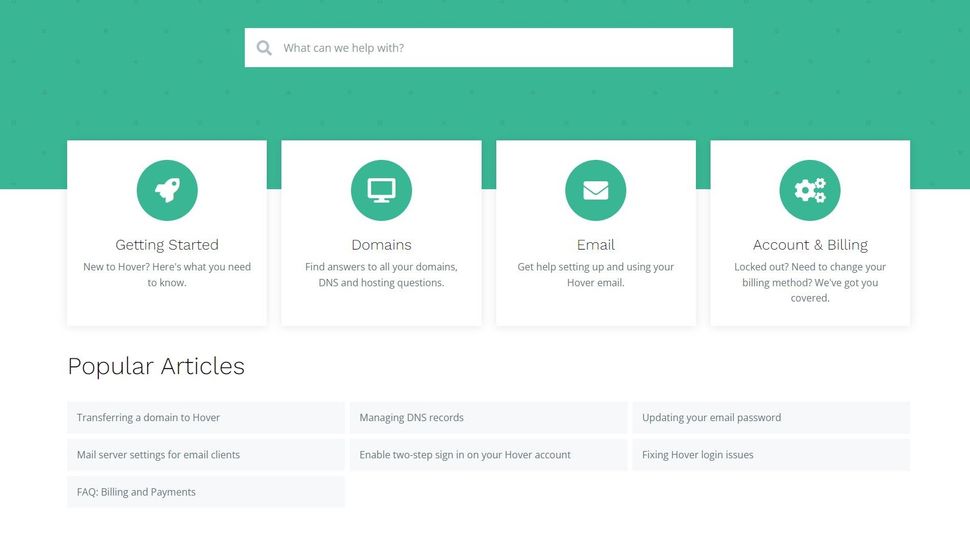 Judging by the response time, Hover's customer support is top-notch. The platform also has an extensive Knowledge Base where you can learn the ins and outs of registering a domain, transferring a domain, setting up a custom email, etc. 
The competition
Hover's main competitors include Domain.com, Google Domains, and Namecheap. Hover's domain name registration services are pretty expensive compared to these rivals. However, Hover stands above these competitors in user-friendliness.
Final verdict
Hover is a suitable domain name registrar. You can use it to find and register any domain name with ease or transfer a domain from elsewhere to its platform. The platform is user-friendly and offers straightforward pricing for customers. It also provides privacy protection for domain registrations, which is helpful. 
However, Hover has some noticeable drawbacks, such as being relatively expensive and offering no web hosting or website builder service.
https://www.techradar.com/reviews/hover-domain-registration-service