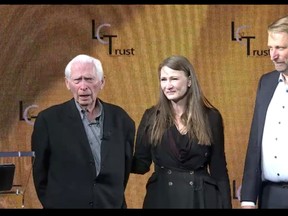 Article content
Lisa Levasseur had the breakthrough idea of how to help entrepreneurs of any age become energized and eager as they seek to launch or expand a business.
Article content
"The concept stemmed from my moving home to Stony Plain from running our Terracana Ranch Resort near Valemount, B.C.," she said.
"My father's health was starting to fail, and I was suddenly left to take over running his companies."
Her father is Stony Plain's popular entrepreneur and philanthropist Gerry Levasseur, 89, whose interests include 10 INNhotels, an automotive RV dealership, an equestrian centre, a construction business and various car dealerships.
"I had worked in all our hotels and ran my own businesses but had truly little experience operating a big corporation," said Lisa Levasseur.
"I had little time to spend learning and needed access to high-level information fast."
Levasseur, an artist whose work hangs in exhibitions, museums and galleries throughout the world, said she was looking for "a Netflix-for-business" type of help, where information could be accessed on demand.
Article content
Not finding what she was looking for led to the creation of the BizWell Studio.
"It's an online platform that showcases inspiring stories about all kinds of successful entrepreneurs, just like my dad," said Levasseur.
"It also provides insight on maintaining health and wellness, which is a challenge when running a business."
Most of the BizWell platform can be accessed free of charge, but there are also more intense business and wellness courses people can sign up for.
Her partner is long-time friend Laurent Goldstein, whose Vancouver Citrus Pie Media Group had already filmed entrepreneurs for commercial advertising.
"Laurent has been a documentary film director, producer and entrepreneur all his life and was the perfect fit to bring the BizWell idea to fruition," said Levasseur.
Article content
"His wife Jennifer joined our partnership and, with her background in online-marketing website design, she did an amazing job creating the platform with us.
"COVID made so many people rethink their careers or re-invent their businesses. Our idea was the right one at the right time."
Goldstein will be in Edmonton June 28 when his movie, commissioned by Levasseur and called A Going Concern, The Life of Gerry Levasseur, will be shown at NAIT's Shaw Theatre.
"The original idea of producing a movie was for our own family and business use," said Levasseur.
"But Laurent's story of dad is so inspiring we decided to share it with the public and hopefully inspire entrepreneurs.
"The show will be a charity fundraiser for the Levasseur Community Trust we founded last year and an inspirational story for anyone in business."
Article content
Ticket sales will support food banks, victim services and mental health organizations in local communities where there are INNhotels.
Tickets are at https://trellis.org/gerry-levasseur-documentary
Supporting mom, five sisters
Gerry Levasseur and his wife Helga, who recently celebrated their 56th wedding anniversary, will no doubt chuckle with friends when it is revealed while he was not a hockey-playing youngster, he would ask his mother to buy him hockey gear and then quietly resell it for cash.
Aged about 15, he bought second-hand bicycles and sold them for two or three times more than he had paid.
Levasseur lost his father when he was 17 and supported his mother and five sisters during the Depression era.
Article content
"Gerry's is an iconic Alberta story," said Goldstein. "He started his first business after his father's death, running a small pop and liquor store in Devon. He went on to create many businesses in both B.C. and Alberta."
Levasseur is a family man and was delighted when son Gerard Levasseur took over the automotive and construction side of operations, while his daughter plans to take over the equestrian centre.
Choosing good staff is a key to success, said Gerry Levasseur, who can point to two good examples.
They are Pat Crowley, who he left to manage his Maligne Lake Cruises and chalet operation when Lisa Levasseur was 27 years old, and Shawnee Wilson, who ran the Levasseur-built Jasper Inn for 37 years.
"Gerry just basically said to both of us, 'You run the place,' and then went back home to Edmonton," said Crowley, who retired recently.
Article content
"He didn't care we were relative toddlers, or for that matter, females. He never questioned our education, skills, experience or knowledge. He had already made his signature decision concerning us both."
Gerry Levasseur says his message in choosing staff is to choose good people and treat them right. "They will be gone if you try to take advantage of them," he said.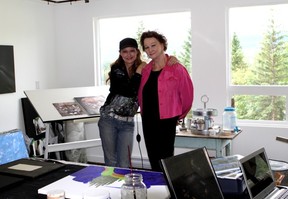 Lisa Levasseur said her interest in art began when she loved horses so much, she began drawing them.
"My mom is a talented artist and helped me," she said. "I had art hanging in galleries by the time I was 17 and then became focused on training horses professionally.
"But more than a decade ago, I did a painting of Maligne Lake for dad's birthday and found myself once more engrossed in artwork.
"I am now trying to position myself with enough support to run my dad's businesses so I can go back to working on my art again."
https://edmontonjournal.com/opinion/columnists/nick-lees-stony-plain-entrepreneur-philanthropist-launched-career-as-teen-choosing-good-people