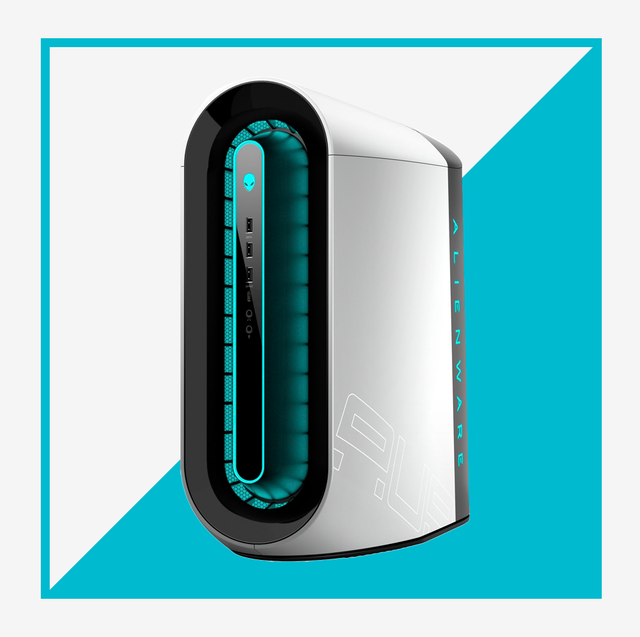 Courtesy of Retailer
The advent of laptops marked the end of desktop computers as we know it, or did it? Laptop computers are of course convenient because they free one to work from anywhere. No longer shackled to an office, productivity ninjas can work from the bedroom, a coffee shop, or even the beach, and laptops are, for most people, comparable in terms of speed and performance to a desktop. But in today's COVID-era world, where people have spent increasing time at home and off the roads, desktop computers are showing their strength.
For starters, desktops are spacious. The computer itself can be tucked away discreetly under your desk, reserving more space to spread out your work. There are also ergonomic considerations to think about. If you use a laptop at your desk, you'll likely be squinting into a small monitor and craning your neck downwards. That's not great for long stretches of work. And sure, you could get an external monitor and connect it to your laptop, but consider also that for the same price of a 17-inch laptop, you can get a more powerful desktop computer with a larger screen. Portability is great, but desktops are woefully underrated. If you can afford to have both, it's worth the consideration. Maybe ask your boss for a work-from-home stipend?
Below are a few of the best desktop PCs available on the market today. Whether you care about customization or just want an all-in-one computer that's simple and ready to go, there's something here for everyone.
Read more: Best Tech Gadgets for Men
Advertisement – Continue Reading Below
Best Overall Desktop
Mac mini
If you want a desktop PC but don't want an enormous tower in your workspace, Apple's Mac mini is worth a look. The extremely compact computer is the most affordable desktop offered by Apple with a starting price at just $699. That's in part because there's no monitor, keyboard, or mouse included—you have to bring all of those yourself. But desktop its minimal footprint, the specifications of the Mac mini are nothing to scoff at. Most recently updated last year, the latest Mac mini includes Apple's cutting-edge M1 processor—the same found in its latest MacBook lineup—as well as 8GB of RAM and 256GB of SSD storage, both of which can be upgraded at purchase. This computer won't let you play high-end games, but you'll be surprised that you can accomplish most other general computing tasks, like photo and video editing or web design, with minimal lag or slowdown. Four USB ports and an HDMI input ensure you'll be able to connect all your peripherals. macOS now supports running of iOS apps, so you'll be able to take advantage of not just desktop apps but also the two million apps that Apple offers through the App Store.
Because the Mac mini has a tiny footprint for a desktop, it can live discreetly in your office without taking up much space. Keep in mind, however, that this computer does not allow for much in the way of customization after purchase, so you'll want to make sure you configure it with the amount of RAM and storage appropriate for your needs.
Read more: Home Office Essentials
Best Gaming Desktop
25L Gaming Desktop
HP's Omen 25L is a great choice for those interested in gaming, but who aren't experienced enough or don't want to build a gaming PC themselves. The Omen 25L is a pre-built gaming PC with a high-end processor, graphics card, and a large fan to help the internals remain cool during intense gameplay. We recommend the model priced at $1,499 for its NVIDIA graphics card that will allow you to play games at 1080P performance. It's not going to offer blazing 4K graphics—for that you'll want one of Nvidia's 30-Series graphics cards, which are currently in short supply. But the Omen 25L will keep you very satisfied until those become more readily available, at which point you can easily open the computer and swap out the card. Of course, Omen 25L will easily accomplish any general purpose computing as well.
One notable thing about the Omen 25L is that it includes both a 256GB SSD hard drive and secondary a 1TB (1,000 Gigabytes) spinning hard disk. Used together, PC users can access important files quickly from the SSD, while media like game files on the other drive.
Read more: Best Tablets
ThinkCentre M70q Tiny Desktop
The ThinkCentre M70q is similar to the Mac mini in its low-profile. It's a bit more expensive than Apple's offering but features the latest generation of Intel i5 processors and allows for more customization at purchase, like the option of adding up to 64GB of RAM, versus 16GB in the Mac mini. It also has 256GB of SSD storage like the Mac mini, helping ensure that files open quickly. That's great if you're doing a lot of multitasking. If you're someone who needs to have Windows to use a particular app, this Lenovo desktop is a solid workstation choice.
Like with the Mac mini, this computer isn't going to be great for gaming—it features integrated graphics that are suited for casual use—and there's not even space within the ThinkCentre M70q to add a better graphics card even if you wanted to. Lenovo offers a range of other tiny desktops at varying prices that are also worth a look.
Alienware Aurora R12 Gaming Desktop
Alienware is a mainstay in pre-built gaming PCs, and the Aurora R12 is a solid choice. This computer computer can be configured to your exact needs, and the computer is built for flexibility. The company says that components can be replaced without the need for any special tools—just pop open the case and components can be added or removed with just your hands. Features like a dual-axis fan and "vapor chambers" will keep the computer running cool at all times. We recommend the model that costs $1,549 and includes Nvidia's 3060 graphics card and 8GB of RAM. This computer comes with just a 256GB hard drive—not great for storing large game files—so you might want to add more.
Apple iMac 24″
The iMac is Apple's desktop computer for the mainstream masses. It's an all-in-one machine, meaning the computer and the screen itself are one cohesive piece. That's great for its simplicity: just plug into a wall outlet and you're off to the races. The latest iMac is also plainly quite attractive, with its brushed aluminum design, super thin profile, and suite of available color options. The new computer drops Intel processors for Apple's M1 replacement, and comes bundled with a keyboard that features Touch ID so you can unlock the machine, and authorize Apple Pay purchases online, with just your fingerprint.
Unfortunately with the latest iMac, Apple decided to drop the SD card slot, to the chagrin of people who transfer lots of media to their computers. Otherwise, the iMac is a great all-in-one option for those who don't care about expanding and tinkering with their computers. There's zero expandability of this computer after purchase, so make sure to spec it out at purchase.
Best Windows All-in-one
24″ Touch-Screen All-In-One
For those looking for a Windows all-in-one, HP is a standout. The company has been making attractive all-in-ones that will look great in your home office. This 24-inch model features a 1080P HD display as well as an AMD Ryzen 5 processor and 8GB of RAM. That processor was originally designed with laptops in mind, but performance tests have shown the AMD processor holds its own in tests against the competition, namely Intel's Core i7 processor for laptops. This computer will be capable of general computing including some lightweight photo and video editing, but more professional creatives might look elsewhere.
Best Affordable Touchscreen PC
Chromebase 21.5″ Touch-Screen All-In-One
Google's Chrome OS is most common in schools, where IT departments can easily deploy and manage the computers for classrooms of young children. But they can also be useful in the home—if you're someone who only really needs to use a web browser for everyday work, since Chrome OS is effectively just a web browser. We like the HP Chromebase because it's affordable at just $549, and features a 21.5-inch high definition touch-screen display, an area where Chrome-based computers are often lacking. You can run Android apps on this computer, and its touch-screen can be rotated vertically to better accommodate apps designed for a smartphone.
This content is created and maintained by a third party, and imported onto this page to help users provide their email addresses. You may be able to find more information about this and similar content at piano.io
Advertisement – Continue Reading Below
https://www.menshealth.com/technology-gear/g38761561/best-desktop-pc/