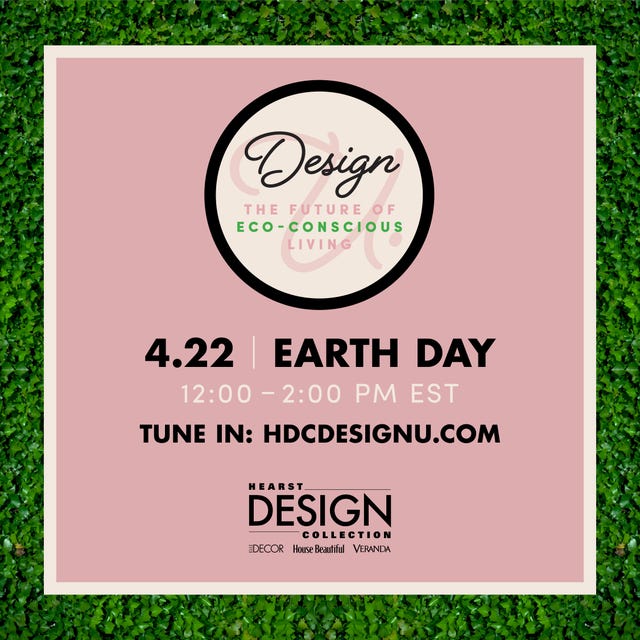 Courtesy Hearst Design Collection
Here at ELLE DECOR, we're all about offering the best design inspiration we can find. On the one hand, that means presenting you with the world's most spectacular homes and providing you with expert decorating advice. But for us, living beautifully also entails giving back to our planet, whether that's sourcing sustainable furnishings and objects or engaging with businesses committed to ethical—and equitable—practices.
To spotlight our commitment to a more sustainable future, this Earth Day editors from ELLE DECOR and its sister publications House Beautiful and Veranda will present the second annual edition of Design U., a virtual summit devoted to pressing questions in the design world. This year, the theme is the Future of Eco-Conscious Living, and it will bring together some of the country's most respected design minds for a day of cutting-edge ideas and in-depth conversations. The conference, launching April 22 at 12 p.m. EDT, is open to students and design professionals, or simply design enthusiasts. Did we mention that it's free?
ELLE DECOR editor in chief Asad Syrkett will be leading a panel discussion focused on sustainable materials. Participants include Luam Melake, manager of the Healthy Materials Lab Library at the Parsons School of Design; curator and author Beatrice Galilee, founder of the World Around design conference; and Jane Abernethy, the chief sustainability officer at furniture manufacturer Humanscale.
House Beautiful, meanwhile, will be hosting a panel devoted to creating a healthier kitchen (a space where well-being counts!), and Veranda will host a conversation about a topic near and dear to all design lovers' hearts: preservation. Also be sure to catch a special panel on creating a more circular fashion industry, as well as a conversation between Frédéric de Narp, CEO of the luxury company behind ethical jewelry house Oscar Massin, and actor Kate Hudson.
Click here to visit the Design U. website to register and learn more. See you there!
Special thanks to our sponsors Humanscale, First Republic, and Beko, and to our supporting partners Tencel, 1 Hotels, Oscar Massin, and Piana Technology. Thank you also to our educational partners the University of Michigan Taubman College of Architecture and Urban Planning; Parsons School of Design; the Savannah College of Art and Design; and the University of Southern California's Roski School of Art and Design.
This content is created and maintained by a third party, and imported onto this page to help users provide their email addresses. You may be able to find more information about this and similar content at piano.io
https://www.elledecor.com/promotions/a39705416/design-u-2022/